Coverage of the Collider 2013 VFX Town Hall
This post will continue to be updated with any media coverage aftermath of today's event, responses, etc. You can check back for updates.
COLLIDER Conference Town Hall Focuses on VFX
14-Jun-2013 NEW YORK, NY — The just-concluded COLLIDER Digital Production Conference proved to be an energetic and, at times, impassioned forum for the exchange of viewpoints and attitudes about ongoing trends in the visual effects, animation and digital production arenas.

A key part of the inaugural conference, which included master classes, panels and keynotes on the latest trends and techniques, was the VFX Town Hall event that took place on Monday, June 10.

Dubbed VFX Town Hall: COLLIDER 2013, this was the first New York City-based town hall gathering for members of the visual effects industry. It was moderated by veteran 2D compositor and visual effects artist Mariana Acuña - known to many as @vfxchick on Twitter and moderator of an earlier VFX town hall held this last Pi Day, March 14.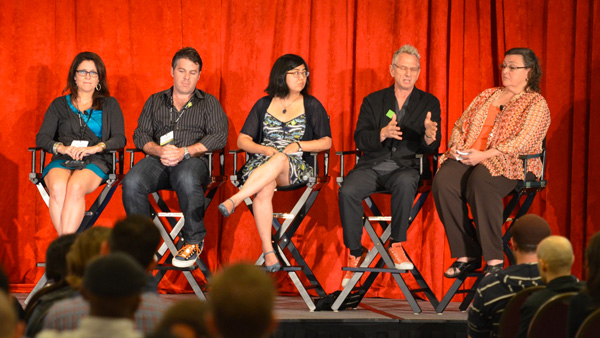 The panel of speakers included Scott Ross, Co-Founder of Digital Domain; Eric Robertson, EP/Owner of Mr. X Gotham; Yana Lehman, Founder and Executive Board Member of Post New York Alliance (PNYA); Cecilia Fredericks, National Business Agent, IATSE 829; and Michelle Higa Fox, Founder and Creative Director of the motion graphics shop Slanted Studio

In addition to the experts on stage, VFX Town Hall: COLLIDER 2013 included a round-robin of viewpoints and reports from VFX pros from around the world, who were patched in via a Google+ Hangout session. This included people in Germany, the UK, Mexico City and Sydney.

The Town Hall comments from the various speakers ran the gamut, from Lehman's explanation of the benefits of tax credits and subsidies in New York that apply just to post production and visual effects to Robertson's belief that, despite what many have heard to the contrary, there is reason for visual effects artists to be hopeful. "There's never been so much visual effects work available in film and TV than right now," he said. "I'm here to share a message of hope. The future is bright."

Ross, who appeared on a stand-alone session earlier in the day, updated the audience on his efforts, so far unsuccessful, to launch an industry trade association for visual effects companies, while IA's Fredericks discussed the benefits of unionization at length and explained how visual effects workers at individual companies could seek to organize and request recognition as a union.

COLLIDER also presented the results on an online study that it conducted in the week leading up to the conference. On hand was Jay Van Bavel, Assistant Professor in the Department of Psychology of New York University, who developed the study for COLLIDER and interpreted its findings.

Van Bavel conducted a similar survey for the Style Frames conference, which took place in February of this year. The Town Hall survey asked participants to rate their responses and emotions on a variety of topics, and to share their feeling about the current state of the effects industry. They were asked what actions, if any, they'd be willing to take to bring about change.

A total of 327 people took the VFX Town Hall survey, of which 272 responses were analyzed, Van Bavel said.

"What we found was that there's a political divide in the visual effects community over whether people should get involved in trying to effect change" in business practices and worker treatment, Van Bavel said. Those who identified themselves as more conservative see the current state of affairs in the business as an economic issue revolving around factors such as competition and supply and demand, while those who identify as more liberal see it as a moral issue that revolves around fairness, exploitation and injustice.

Van Bavel added that this philosophical divide was most apparent when asked to view the industry's problems from the standpoint of themselves as individuals. But when asked about to view the industry's current state from a more collective standpoint - as a member of a larger community of visual effects workers - there was a much stronger consensus that change was required, and a greater sense of motivation to make it happen.